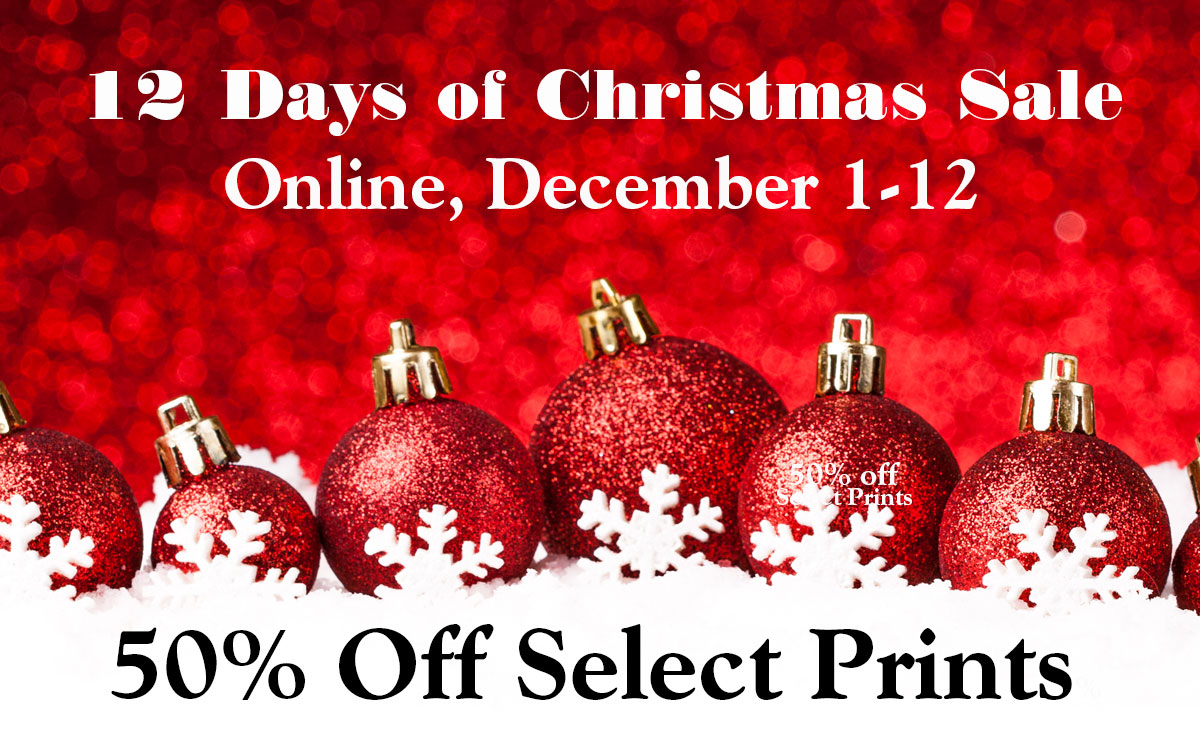 12 Days of Christmas Sale!
December 1-12
50% off select fine art prints.
Price includes shipping.
Collector's Club Discount does not apply.
Hurry - stock is limited. When they're gone, they're gone.
If you have been wanting to add to your collection of our fine art photographic prints, now is you chance. Do you have someone special on your Christmas list, or want something special for yourself? You won't beat these prices of 50% off.
Small Print: 12"x18" (Fits 18x24 Matted/Frame) $98.00 SALE $49.00
Large Print: 15"x23" (Fits 22x30 Matted/Frame) $135.00 SALE $67.00
Matting and framing is not included.
Quantities are limited, so hurry to get your order in. Sale prices will be up on the website starting December 1st.
Sale Prints
Category: West Virginia
Appalachian Blue Small 1
Appalachian Blue Large 1
Blackwater Falls Small 2
Day is Done Small 1
Elkala Icicles Small 1
Elkala Mossy Steps Small 1
Gaining Character With Age Small 2
Glade Creek Grist Mill Small 1
Glow Small 3
Glow Large 2
Indian Tree Small 2
Mineral Wells Frost Small 1
Mineral Wells Frost Large 1
Mountain Overlook At Dolly Sods Large 1
Pendleton Point Overlook Small 1
Snowbound At Audra Small 1
Snowbound At Audra Large 1
South Branch of The Potomac Large 1
Standing Alone Small 1
The River Guide Small 1
Whisper Small 1
Whispers of Cotton Small 1
Woodland Gold Small 1
Category: Amish/Ohio
An Amish Morning Stroll Small 1
Best Buddies Small 1
Morning Buggies Large 1
Morning Mist Large 1
Weathered Beauty Small 2
Weathered Beauty Large 1
Category: Pennsylvania
Barronvale Covered Bridge Small 1
Factory Falls Small 1
Lower Bridesmaid's Falls Small 1
Lower Bridesmaid's Falls Large 1
Category: Animal & Flower
Crawdad at Tea Creek 12x18 (Fits 18x24 Matted/Frame) 1
Whitetail on Cheat Mountain 12x18 (Fits 18x24 Matted/Frame) 1
Category: Digital Painting
Autumn's Last Hurrah Small 1
Autumn's Last Hurrah Large 1
Mama's Sunflowers Small 1
Mama's Sunflowers Large 1
Peacock's Splendor Small 1
Peacock's Splendor Large 1
The Gathering Place Small 1
The Gathering Place Large 1
Woodland Sunset Small 1
Woodland Sunset Large 1
Category: North Carolina
Hope At The Devil's Courthouse Small 1
Purple Mountain Majesties Small 1
Category: South Carolina
Botany Bay Reflection Small 1
Category: Antique Truck & Car/Still Life
51 Chevy Small 2
Chevy Love Small 2
Chevy Love Large 2
This Old Mack Large 1
This Old Mack Small 1
---