Contact Morehead Photography
Morehead Photography
284 Englewood Drive, Mineral Wells, WV 26150
(304) 482-5629
[email protected]
Scenic photography studio open by appointment only.
Photographers Jeff Morehead & Becky Anderson
Although our advertising agency consumes much of our time, our love of nature inspires us to don hiking boots to explore and capture the raw beauty around us. Whether we are in our photography studio or on a mountain trail in the middle of a downpour, we combine our talents of artistic design and composition on each shoot. In the fashion of Currier & Ives, we capture, select, color correct and finish prints as a team.
Wherever we are shooting, in the rugged mountainous terrain of our native West Virginia, the beaches and salt marshes of South Carolina's Lowcountry or a winding back road in Ohio's Amish Country, we strive to capture the beauty of our surroundings with a fresh eye. We also blend our talents for photography, illustration, and graphic design to create beautiful digital paintings. These paintings include one or more photos blended together with the addition of painterly brush techniques to create unique works of art. Both Jeff and Becky are members of the West Virginia Art & Crafts Guild. Jeff Morehead is a two-time winner of the KelbyOne PhotoshopWorld Guru Award for Photo Retouching 2019 and Photo Compositing 2021 at the International PhotoshopWorld Event.
In addition to fine art prints, as part of Morehead Marketing, our advertising, design and photography firm, we own a commercial photography studio near Parkersburg, WV which specializes in Product, Styled Food, Room Set, Architectural, Model, Tourism, Landscape and Fine Art photography. Our images have been distributed worldwide through client ads and promotions and published in Southern Living Magazine, Woodcraft Magazine, Wonderful West Virginia, Ohio Magazine, West Virginia Medical Journal, Early American Life, Columbus Monthly, Cleveland Magazine, and West Virginia Living. For more information about Photographers Jeff Morehead and Becky Anderson, download our Artist Biography.
Stay In Touch
If you want to stay up-to-date with what is happening with Morehead Photography you can follow us on social media sites like Facebook, LinkedIn, and Pinterest. You can also sign up for our email list. We send out monthly EBlasts with a featured photo of the month, upcoming events, and new stuff. Plus we'd love to hear from you.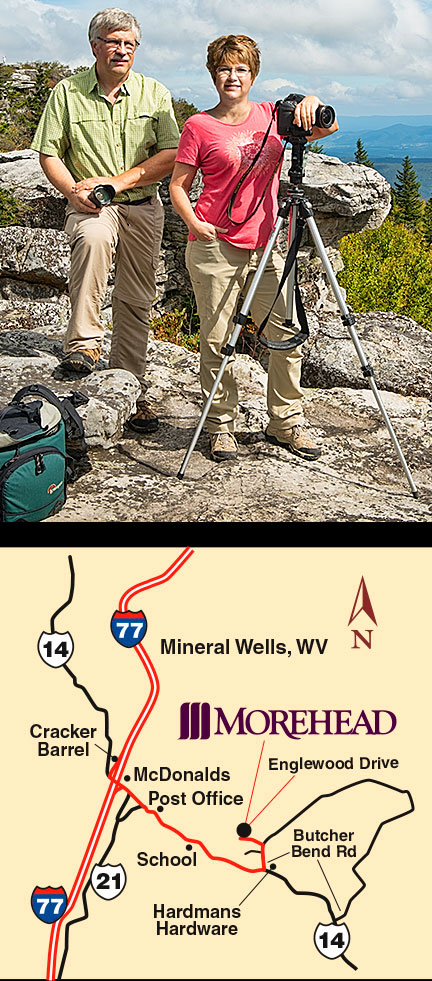 ---