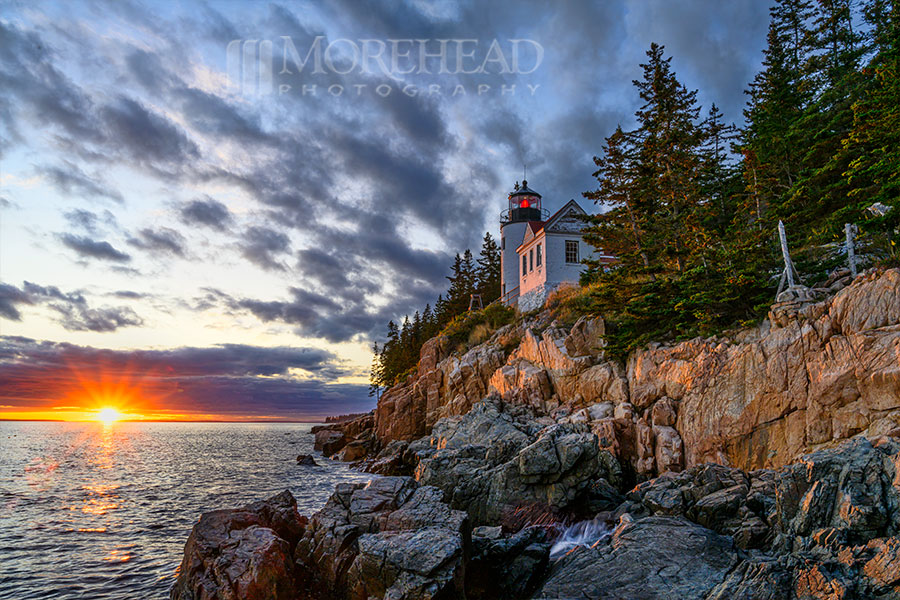 Follow Me Home
When I was young, I remember working a puzzle of this lighthouse and thinking what a beautiful painting. Now years later, standing at its feet, and looking up from the rocks below I am taken again with the surreal beauty of the Bass Harbor Head Lighthouse at sunset.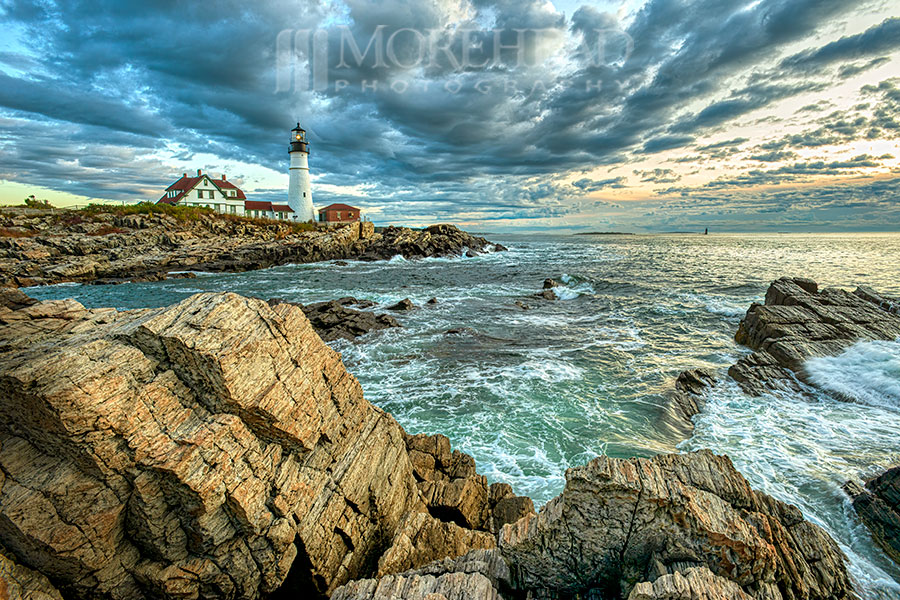 Portland Head Lighthouse
Portland Head Lighthouse is the oldest lighthouse in Maine. It was completed in 1791 and stands on the tip of Cape Elizabeth at the entrance of the primary shipping channel into Portland Harbor. What makes this view especially unique are the rocks that look like petrified wood. They are actually made up of quartzite and dark grey phyllite in alternating layers.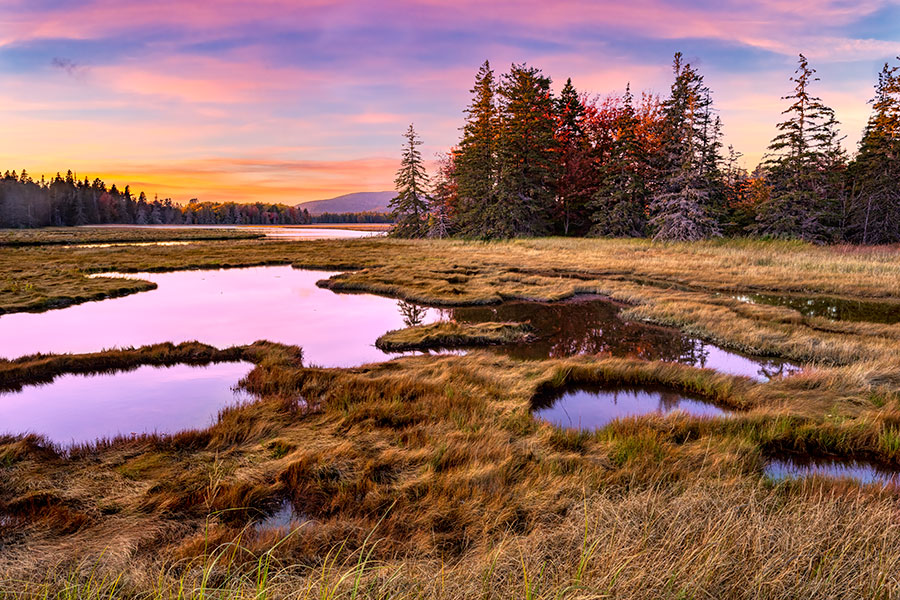 Autumn Wilderness
Autumn colors paint the fields of gold-tipped grasses and rugged trees while the intense colors of the changing sky are reflected like mirrors off the pools of scattered water. All is quiet, and still, and beautiful.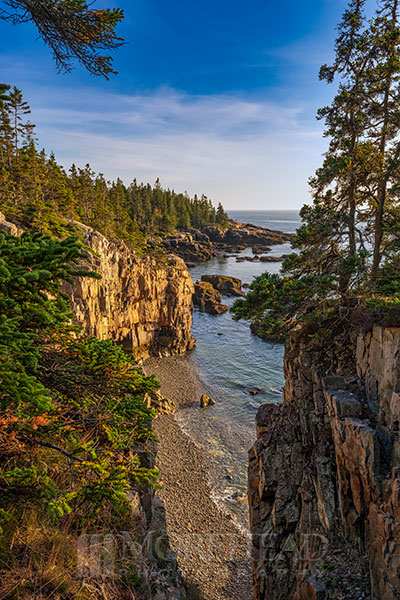 Acadian Cliffs
This rugged stretch of Maine coast has it all, precipitous granite cliffs rising up from a windswept rocky strewn shore, craggy evergreens , and an ebbing surf. As we ventured out to this remote spot, there were three other photographers and to our surprise, one was someone we knew from our home town.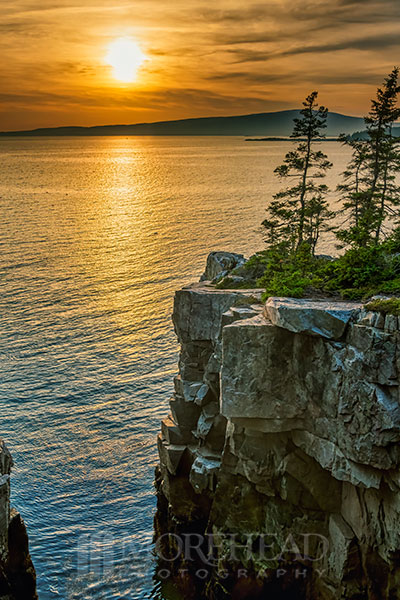 Ripples Below
The mainland portion of Maine's Acadia National Park is sometimes more photogenic than the more popular Mount Desert Island scenes. The Schoodic Peninsula is one such spot. We arrived just a little before sunset and as the light became more dramatic we noticed activity in the water and got to watch a school of Dolphins feed.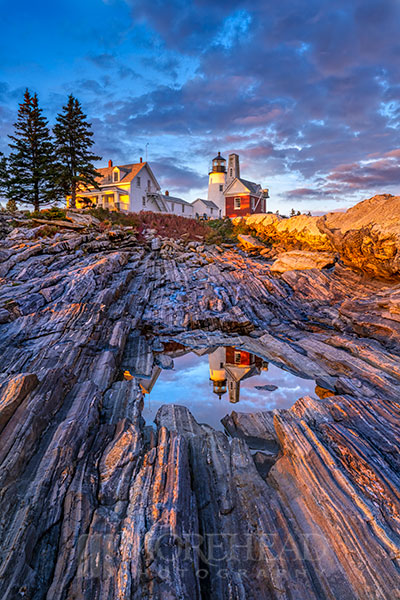 Pemaquid Point Lighthouse
The Pemaquid Point Lighthouse is a beloved landmark in Maine – so much so that it was picked to be featured on the state quarter! It was built in 1835. Visitors find the rock and ledge formations out in front of the lighthouse, as well as the restless sea that often presses up against the ledge in dramatic fashion, fascinating to behold.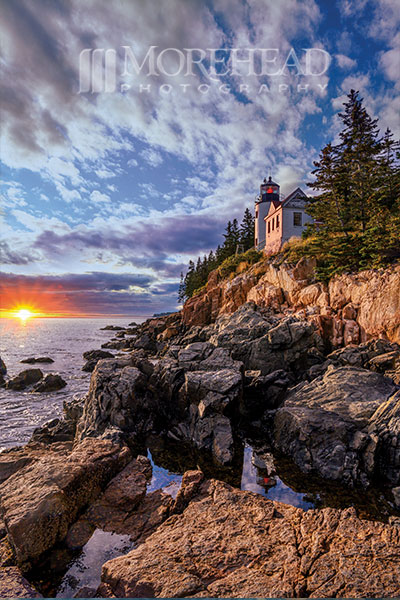 Bass Harbor Head Lighthouse
Sunset casts a warm glow over the Bass Harbor Head Lighthouse as it sits perched on the edge of a cliff overlooking the rocky granite shores of Acadia National Park's Mount Desert Island in Maine. The lighthouse dates to 1855 and is currently the private residence of a local Coast Guard employee. We didn't abandon our spot to capture this beautiful sunset shot until after four hours when the tide rose around our ankles.
Maine Photography We loved our travels up the Maine coastline, munching on lobster rolls, eating wild blueberry pie, and particularly hiking around Acadia National Park. With the combination of mountain vistas and rugged coast, the scenery is spectacular. Our scenic photo print of the Bass Harbor Head Lighthouse is our first print in our Maine series, but check back often as we will be adding more Maine photography soon.
---